James Pretsell was called to the Bar in 1998 and was taken on as a tenant having completed his pupillage at Farrar's Building in 1999.
James's practice consists largely in multi track personal injury work. He also has expertise in professional negligence and disciplinary work having represented individuals before a variety of professional regulatory bodies as well as the Administrative Court. He also practices in the area of employment law.
As a fluent French speaker, James has also developed an interest and practice in cases with a French element and more generally cases involving questions of foreign jurisdiction.
James provides seminars to solicitors and insurers. In the past eighteen months he has spoken and written on topics as varied as the impact of the Jackson Reforms, the Enterprise Act, conducting cases involving allegations of fraud and the 'hot tubbing' of expert witnesses.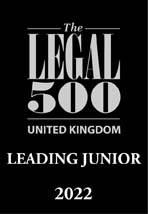 James has an extensive personal injury practice consisting of multi track claims ranging from high value County Court to High Court claims. James has been briefed to appear alone in a number of High Court trials in the past eighteen months. James has considerable experience of conducting JSMs.
James largely appears on behalf of Defendants. He has been instructed by most, if not all, of the major UK insurance companies.
James also appears on behalf of Claimants where the claim is complex or of high value. For example, James recently successfully represented a Claimant in a week long High Court trial where complex legal and medical issues arose in a case where moderate brain injury was alleged.
James has particular expertise in claims involving issues of employers' liability and/or complex injuries and conditions such as chronic pain and occupational diseases.
James has extensive experience of dealing with fraudulent claims in both the civil and criminal jurisdictions.
He has acted as junior to Patrick Harrington QC in a number of criminal matters involving allegations of fraud of the utmost severity ranging from the attempted bribery of a Local Authority Chief Executive to an alleged conspiracy to avoid the multi-million pound reinstatement of open cast mining sites.
The overwhelming majority of James' work is though in the civil sphere where he represents Defendant insurers in a wide variety of cases involving allegations of fraud and which has resulted in him being ranked in the Legal 500.
James has particular experience and expertise in the use of surveillance evidence.   He appeared on behalf of the successful Defendant insurer in the High Court case of Stewart v Kelly (2016) EWHC 3263 (Blake J) dealing with the, often difficult, issue of when to disclose surveillance evidence.
James represented the successful Defendant insurer in the High Court trial of Atkinson v Pathak (2015) EWHC 1120 (Robert Owen QC) where the forensic use of surveillance evidence at trial resulted in the Claimant failing to beat an historic Part 36 offer.
James is also vastly experienced in advising on and drafting allegations of fraud and/or fundamental dishonesty whether in Defences or Counter schedules.
James has extensive and broad experience of appearing in front of professional and sporting disciplinary and regulatory bodies.
James has acted on behalf of solicitors, accountants, medical professionals and teachers. He has appeared before a wide variety of disciplinary panels such as those of the Association of Chartered Certified Accountants, the General Medical Council, the Nursing and Midwifery Council, the Care Quality Commission, the National College for Training and Leadership and the General Regulatory Chamber.
By way of example of his recent work, James successfully defended a teacher who was the object of potentially career-ending allegations of sexual misconduct:
http://www.farrarsbuilding.co.uk/james-pretsell-represents-teacher-cleared-of-sexual-misconduct/
James also sits as Chairman of the Appeals Tribunal of the Showmen's Guild of Great Britain adjudicating on disputes that are often of a commercial and technical nature.
James also advises and acts on behalf of professionals facing negligence claims. Recently James successfully resisted an appeal before HHJ Saggerson QC brought by a solicitor's former client in which a series of allegations of professional negligence were made arising out of a complex matrimonial dispute.
James has acted and advised on behalf of various professional sporting individuals and bodies. He has, for example, acted for a professional boxing manager before the appeal panel of the British Boxing Board of Control where he enjoyed the rare distinction of cross-examining Frank Warren and advised a rugby club on the prospects of successfully challenging a refusal by the WRU to allow promotion.
James is a member of the Association of Disciplinary and Regulatory Lawyers.
View full profile >>