John Meredith-Hardy undertakes insurance, commercial, personal injury, clinical negligence and costs related instructions.
The breadth of John's experience across a range of subject areas is of particular assistance to professional and lay clients due to the nature of civil litigation that frequently includes both, for example, insurance coverage and liability issues, personal injury and costs, etc.
John acts for both claimants and defendants and receives instructions from solicitors, insurers and via public access. John is an accredited mediator and is a 'Leading Individual' in the Legal 500 and ranked in Chambers UK.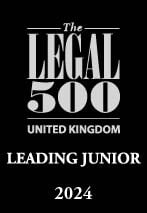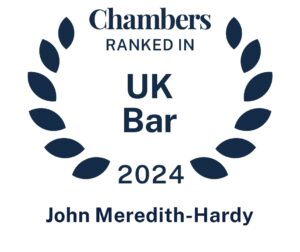 John is regularly instructed on coverage, indemnity & related disputes (including the duty of fair presentation) by insurers, the insured and insurance brokers in relation to non-consumer and consumer insurance.
Instructions include issues arising from:
• Insurance Act 2015, Consumer Insurance (Disclosure and Representations) Act 2012 & ICOBS.
• RTA insurance coverage, s.151 enforcement of judgments & recovery claims, the MIB, Article 75, uninsured & untraced drivers, and the Green Card scheme.
Recovery claims include damage by flood, fire, storm and theft. Underlying causes of action include negligence, nuisance and Rylands v Fletcher.
Product related claims include the Electrical Equipment (Safety) Regulations 1994, Sale of Goods Act 1979, Supply of Goods and Services Act 1982, Unfair Contract Terms Act 1977, Consumer Rights Act 2015 & Consumer Protection Act 1987.
John's insurance work dovetails with his commercial and PI practices as insurance claims involve liability issues falling within these areas of expertise.
John provides seminars on commercial and consumer insurance, and road traffic insurance relating to accidents in the UK, with a foreign element and abroad.
Examples of cases undertaken:
Property Insurance
W v Royal Sun Alliance Insurance PLC – acting in a claim for an indemnity following the theft and conversion of (about) 25,000 metric tonnes of iron skimmings from a steel mill in South America
Gage v Barnard – acting for insurers in a subrogated claim following the spread of fire between domestic premises following negligent work being undertaken by roofing sub-contractors
Hussain v New India Assurance Company Ltd – acting for insurers in a claim for an indemnity following destruction by fire of a care home; claim discontinued following service of the insurer's defence
London Borough of Redbridge v Theori Investments Ltd – acting for the defendant in a recovery claim; claim discontinued following service of Defence & application to strike out
Keevil v Steele & Bray Ltd – acting for the defendant and its insurers in a claim for nuisance allegedly occurring between adjoining domestic and commercial premises
Carmichael & Sons (Worcester) Ltd v NIG – property insurance & indemnity claim successfully defended following a landslip
Thorpe v Cruze & Gallantree – destruction of neighbouring thatched premises by fire, causation and insurance indemnity
Walding & Savage v Singh & others – High Court trial – tenants successfully claimed insurance monies wrongfully taken by the landlord after premises destroyed by fire; freezing injunction before & after judgment
Medical & Professional Indemnity
I v Scottish Provident / Royal London Mutual Insurance Society – insurance coverage dispute concerning disability income benefit
P v Hospital & Medical Care Association – coverage dispute regarding medical expenses insurance
Downing v Chartis Insurance Co – coverage of personal accident policy following clinical negligence
Lloyd & others v The Charles Group & others The Stax Litigation ¬- independent financial advisers & professional indemnity coverage
Road Traffic Insurance
Keogh v Shakier & others – acting for the MIB by its alleged Article 75 insurer & in circumstances where the claim was defended on the basis of another insurer being responsible for coverage, the Consumer Rights Act 2015 s.49 & 50, Consumer Insurance (Disclosure and Representations) Act 2012 & ICOBS
NIG v Hussain & others – acting for insurers in a recovery claim pursuant to Monk v Warbey with Article 75, the Road Traffic Act 1988, s.151 and the MIB Uninsured Drivers Agreement being relevant to the claim
Corder v Boyd, D & MIB – RTA coverage and liability of car owners to those not permitted to drive
Wasley v MIB & UK Insurance – coverage dispute concerning RTA insurance where the accident occurred not on the road or public place; declaratory relief
Candemir v UK Insurance Ltd – trial regarding Road Traffic Act 1988, s.151 and s.152; claim dismissed on account of the absence of notice to the insurer as provided for by Road Traffic Act 1988, s.152(1)(a)
Recent insurance advisory work has included:-
• acting for insurers in claims for business interruption coverage during the Covid-19 epidemic
• advising and acting for insurers at mediation in a claim against insurance brokers and the insurer for an indemnity where the insurer had repudiated coverage on the basis of the insured's breach of duty of fair presentation
• advising on employer's liability policy terms, reimbursement and policy excess in the context of Employers' Liability (Compulsory Insurance) Act 1969, Employers Liability (Compulsory Insurance) Regulations 1998 & Undertakings (Protection of Employment) Regulations 2006
• acting for an electrician and insurer in a claim for property damage by fire to premises in Scotland following alleged negligent work and in circumstances where co-insurance and JCT Option C applied
• advising an insurer on policy coverage regarding secondary exposure to asbestos and coverage by a contractor's combined policy for claims by a third party not employed by the insured
• advising an insurer on coverage issues following storm damage to commercial premises and in relation to terms relating to occupation of premises
• acting for electrical sub-contractors and its insurers in defence of a subrogated claim following a fire causing damage to high value residential property that was allegedly caused by negligence
• advising an insurer on the recovery of its outlay following flooding to the highway and the escape of water into third party premises causing insured loss
• advising ATE insurers on coverage and costs issues regarding ATE insurance following bankruptcy of the insured and the Third Parties (Rights against Insurers) Act 2010
• advising the insurers of commercial premises following the catastrophic spread of fire from neighbouring commercial premises after a burglary and intentional or accidental fire setting by trespassers causing high value property damage
• acting for a manufacturer of decorative radiators and its insurer in a claim for water damage following an alleged defective manufacture of goods
• acting for a maintenance company of commercial oil pumping equipment and its insurer in a claim for damage caused by escaping oil following an alleged defective provision of services
• acting for insurers on policy coverage following damage by fire to a high value commercial vehicle due to a defect in equipment supplied by a third party and fitted to the vehicle
• advising an insured regarding coverage and the Insurance Act 2015 in relation to destruction by fire of a valuable classic car
• advising insurers on policy coverage following the sale of car, Road Traffic Act 1988 s.151 & 152 and the effect of Fidelidade-Companhia de Seguros SA v Caisse Suisse de Compensation (C-287/16) [2017] RTR 26
• advising road traffic insurers on RTA 1988, s.151(8) recoveries against the uninsured negligent driver and the insured passenger who permitted the driver to drive the vehicle
• advising road traffic insurers in a claim by Highways England Company Limited for the recovery of damages for property damage to motorway infrastructure following an insured's road traffic accident
• acting and advising road traffic insurers in a claim for the recovery of damages for loss of use of a commercial vehicle following an insured's road traffic accident
John is instructed in commercial contract and product liability disputes; Unregulated commercial lending; Sale of services including mortgage broking; Company directors and duties; Building disputes involving the construction of domestic housing and commercial property, Property disputes involving shops, hotels and farms and the Sale of goods including Engines and Mechanical devices.
Complex issues of causation of loss and quantification of damages arise in the work undertaken by John.
 Examples of cases undertaken:
TRW Pensions Trust v Whirlpool & others – acting for the manufacturer of components for dishwashers in a product liability claim following a fire at commercial premises in England
Butler Farms v Vickery Ltd – acting for the successful defendant in a contractual dispute concerning the provision of dairy & farming services; following a trial the claim was dismissed
C v Hanson Quarry Products Europe Ltd t/a Hanson Aggregates – supply of sub-standard tarmacadam topping for tennis courts and consequential loss
Nusantara Energy Ltd v Healey – Commercial Court trial – breach of director's duties, director's negligence and breach of fiduciary duty
SWT Ltd v Hind & Steel – TCC trial – issues concerning liability for trees by an occupier and the duty of care owed by a tree surgeon to third parties
Briggs v Quore ­­- dispute over meaning & effect of a share purchase agreement in the telecoms space (mobile phones)
James v E.H. Whybrow & Co Limited – claim for trespass relating to building works undertaken by a neighbour
Ferguson v Ossett Brewery Pub Co Ltd – nuisance claim concerning land slip and damage to neighbouring land
Baker v Phillips – County Court trial – easements & water access dispute resolved in favour of the Claimants at a trial
Shurmer v Council of the City & County of Swansea – nuisance claim following collapse of an embankment
UK Acorn Finance Limited v Vincent – agricultural mortgages & a claim for Consumer Credit Act 1974, s.140B relief
Acorn Country Capital Limited v Walker – High Court trial – agricultural mortgages & a claim for Consumer Credit Act 1974, s.140B relief and breach of fiduciary duty
Pilcher v Stan & others – advance fee fraud, freezing injunctions and recovery of 'money had & received'
Penna PLC v Huawei Technologies (UK) Co Ltd – breach of contract in the employment recruitment field
Jawaheer v AIB GROUP (UK) P.L.C. – breach of contract by a bank following a business restructure
Hankey v Sealine International Ltd – County Court trial – action against Sealine International for engine failure 5 years after purchase
Gewefa UK Ltd v Saro Engineering (Merthyr) Ltd – quality and fitness for purpose of specialist machine tools supplied to an engineering company
May v Motortech Marine Engineering Ltd – County Court trial – action against engine supplier for engine failure
Also see under 'Insurance' for other claims concerning commercial law
John has significant experience acting for claimants and defendants across the full range of personal injury claims.
The subject matter of claims includes accidents at work including factories, oilrigs, workshops, shops & offices; Occupational disease including asbestos related conditions; Road traffic accidents involving heavy goods vehicles, cars and motorbikes; Employment, holiday and road traffic accidents abroad whilst on-land and on-ship; Road traffic accidents in England where there is a foreign element.
Instructions include injuries resulting in Brain injury, Cerebral palsy and Spinal injuries of the utmost severity; Chronic pain, Amputation and Complex injuries resulting in lifetime care & therapy, adaptive housing and ancillary services. John undertakes CICA claims of the utmost severity, concerning nervous shock and Fatal accidents.
Examples of cases undertaken:
Andrews v KCS Herr Voss (defendant) MII Engineering Ltd (third party) – instructed by the third party on defence of defendant's additional claim in a serious factory accident; claim discontinued by the defendant following service of the third party's defence
Smith v Mason – acting for a claimant in a serious personal injury accident in Gibraltar resulting in working-life inability to pursue pre-accident occupation; claim settled at a JSM
Edmunds v W.L. Vallance Ltd – acting for a defendant in a High Court trial on liability and quantum with regard to an accident at work allegedly resulting in brain injury; Enterprise and Regulatory Reform Act 2013 s.69 of relevance; claim dismissed
D v Gibraltar Health Authority – acting in a claim by a medical professional for work related illness in the Supreme Court of Gibraltar and in the Court of Appeal of Gibraltar; claim settled at a JSM
L v Surbiton Town Sports Club Limited T/A Surbiton Town Raceway – acting in a claim against a company operating a karting track in circumstances where the claimant sustained poly-trauma in consequence of an accident on the track and a loss of a chance to have pursued a career as a management consultant
AAA represented by her litigation friend BBB v MIB & another – approval of a settlement of £4 million plus interim payments of £357,725 for a brain injury sustained in an RTA when age 2 & age 21 on date of settlement
XP v (1) Compensa Towarzystwo SA (2) Bejger – High Court trial relating to, inter alia, apportionment of damages following consecutive road traffic accidents, one in Poland followed two years mater by an accident in the UK
Jesmin v WH Smith Retail Holdings Ltd – County Court trial – chronic pain claim for substantial damages dismissed after a trial and damages awarded for minor soft tissue injury
Ibidapo-Obe v Selimi – brain injury following a collision with a car whilst a pedestrian
McMaster v Pringle – complex & severe brain injury that included lifetime claims for damages across the spectrum of recoverable loss
Middlemiss v Ministry of Defence – Junior soldier injured whilst paint balling & sustaining serious eye injuries
Woods v Fiserv Ltd – repetitive strain injury claim relating to work place injuries in an office environment
Rutley-Frayne v Meller – Fatal Accident and personal injury of the utmost severity including loss of a leg and arm
Weale v Todd – complex pain case including substantial business loss & expert accountancy evidence
Ward v First Central Insurance Ltd – poly-trauma and brain injury sustained in an extremely serious road traffic accident
D v CICA – CICA hearing – claim for a victim of child abuse resulting in brain injury and spastic quadriplegia
McGonigle & another v Fineturrret Ltd v Morgan Est PLC v Farrans Construction Ltd v Format Urzadzenia I Montaze Przemyslowe SP Z.O.O. – multi-party liability dispute following an accident on a major infrastructure project
Clinical Negligence
John is instructed in claims against medical professionals including consultants, doctors, GPs and nurses for clinical negligence and acts for both claimants and defendants.
Examples of cases undertaken:
Bardsley v Dovehaven Nursing Home – successful defence of a claim for negligent care by a nursing home
Coleman v S – shoulder surgeon negligently performed four-part shoulder arthroplasty
Bloomfield v Brighton & Sussex University Hospitals NHS Trust – negligently performed herniogram resulting in a perforated bowel & failure to obtain informed consent
Muminolglu v Sharma – claim against a GP for wrongful prescribing of medication
Nicols v Guy's & St Thomas' Hospital NHS Trust – negligent treatment with regard to operative treatment to remove a needle from a patient and negligence causing infection
Leybourne v King's College Hospital NHS Trust – negligent diagnosis of cancer causing premature death
Civil Fraud
John has experience of pleading and making submissions in cases concerning fundamental dishonesty in the context of s.57 and QOCS. Fraudulent misrepresentation, deceit and Fairclough v Summers strike out have been a feature of John's practice for many years, and remain so in non-PI cases where fundamental dishonesty does not apply. John has considerable experience of fraud relating to insurance claims, coverage disputes and the provision of financial services.
Costs
Costs issues form a regular aspect of John's day-to-day practice and include Costs budgeting, Qualified one way costs shifting (QOCS); Fundamental Dishonesty & s.57; Enforceability of Conditional Fee Agreements; Interim payments of costs; Orders for costs and Detailed Assessment of Costs.
John acts for claimants, defendants and insurers in claims relating to events outside of the UK and those within the UK with a foreign element.
Claims outside of the UK include personal injuries sustained in Croatia, France, Poland, Spain, Slovakia, Gibraltar and the USA. The subject matter of the disputes have included road traffic accidents, accidents at work and whilst on holiday, with claims being litigated in England according to foreign law. They have included The Package Travel, Package Holidays and Package Tours Regulations 1992.
Claims within the UK have included:
foreign registered vehicles involved in road traffic accidents in England;
issues arising from claims against insurers based outside of the UK and within the EU;
service outside of the jurisdiction on parties and insurers; and
issues arising from Brexit
John has appeared in the Court of Appeal in Gibraltar and is instructed in personal injury claims in that jurisdiction.
John's insurance practice includes claims against insolvent foreign domiciled insurers, and in other cases where insurable events have occurred in Scotland, Jersey, Chile and France where foreign law has been relevant to the outcome. Recent instructions have included product liability claims concerning the law of Italy, Austria and England.
John provides seminars to solicitors and insurers on topics relevant to travel and tourism including "RTA insurance, pleading & foreign element" that addresses claims concerning accidents abroad and litigated in the UK, claims in relation to accidents in the UK where the defendant is domiciled out of the jurisdiction and the Green Card system.
John receives instructions by public access across the range of areas of work that he undertakes. Anyone can now go directly to a barrister without having to involve anyone else (e.g. a solicitor) and this presents a cost effective and efficient approach to obtaining legal advice.
John provides advice on legal status or rights, drafts documents and can provide representation in court and at mediations. John can also negotiate on your behalf by telephone, at face-to-face joint settlement meetings, mediations and at court.
Assistance in pursuing claims via the Financial Ombudsman, the Parliamentary & Health Service Ombudsman & Local Government Ombudsman can also be provided.
Examples of public access work undertaken:
I v Scottish Provident / Royal London Mutual Insurance Society – insurance coverage dispute concerning disability income benefit; claim successfully pursued through the FOS
P v Hospital & Medical Care Association – insurance coverage dispute regarding medical expenses insurance; claim successfully pursued through the FOS
Earls Court Properties v S – value & quality of building works undertaken
Sparrow v M – personal injury claim alleging damages for assault
Recent advisory work by way of public access has included:-
• advising an insurance broker regarding professional indemnity coverage and the broker's duty of fair presentation of risk
• advising on insurance policy coverage following a robbery from a luxury store
• advising on insurance policy coverage, average clauses, reinstatement values, Declared values and "Day One Inflation provisions" in a commercial property policy following destruction of commercial property by fire
• advising on the recovery of professional fees of loss adjusters following settlement of claims by reason of the Water Industry Act 1991, s.209 against a utility company
• advising in a claim against a company operating a health center for its liability for breach duty of a subcontractor health care professional
• advising in a claim against solicitors and medical experts following settlement of a clinical negligence claim