Tim Found's practice is grounded in a wide variety of general common law matters. He has particular experience in the specialties listed below. He regularly appears in the High Court and County Courts across the jurisdiction. He is frequently instructed in JSMs (joint settlement meetings) or other ADR in cases valued at six or seven figures.
All types of paperwork are undertaken by Tim, including drafting statements of case / pleadings, questions to experts, agendas, advising on liability, quantum, prospects, tactics, Part 36, strategy, appeals and generally.
Tim conducts conferences in person with lay clients, experts and his instructing solicitors, either in chambers' recently refurbished facilities or elsewhere whenever required. When speed is of the essence, chambers is able to arrange telephone conferences without the need for outside telephone conferencing facilitators.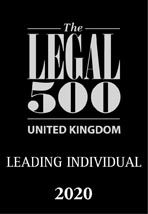 Tim acts predominantly for Defendants in clinical negligence matters. He has particular experience in colorectal cases (tears resulting from childbirth, failure of anastomosis after laparoscopic bowel resection, haemorrhoidectomy). In the last twelve months, he has been instructed in cases involving:
complications following childbirth,
TIA,
emboli,
hip replacement,
hip dysplasia,
knee surgery and
other orthopaedic matters.
He is familiar with claims alleging delayed / missed diagnoses, toxicity of medication, the consent process, negligent treatment and / or surgery. His litigation experience also includes but is not limited to claims arising from general practice, dentistry, midwifery, health visiting and nursing.
Tim regularly appears before the Queen's Bench Masters and the High Court. He is as comfortable in conference with experts as he is delving into the detail in thousands of pages of medical records.
Tim is regularly instructed to advise on and attend summary and detailed costs assessments.
Tim has advised, pleaded and represented both sides in trials involving credit hire disputes on, he estimates, hundreds of occasions in County Courts throughout England and Wales. He is very familiar with the frequently argued issues of rate, impecuniosity, need and period. He has also taken points on enforceability when appropriate, although that is becoming less frequent.
Tim is alert to the fact that claims involving credit hire often contain liability disputes, issues of credibility and reliability, and heads of loss which are also of the utmost importance to the lay client.
Tim's general civil / common law work includes:
Travel claims
Holiday claims
Landlord & tenant
Insurance matters
Contractual matters
Claims for diminution in value
Criminal Injuries Compensation Appeals Panel proceedings (CICAP)
Tim represents Claimants and Defendants in personal injury matters with equal frequency. Tim accepts instructions on behalf of individuals, businesses, insurance companies and local authorities. He appears in the High Court and in the County Courts for interim applications to final hearings. He has experience of cross examining expert witnesses at trial in fields of engineering, water and environmental health / toxicology, microbiology, loss of value and a number of medical disciplines.
Much of Tim's personal injury practice arises from road traffic accidents, but he is also very familiar with fatal accidents, highways, tripping & slipping claims, health & safety law, employer and public liability matters. He has particular experience of snow, ice and gritting claims brought under s41(1A) of the Highways Act 1980 or otherwise.
He has also been instructed in quasi-clinical negligence matters such as care of mental health service users and negligent beauty / cosmetic treatment.
Tim is frequently instructed in civil matters with a fraudulent or exaggerated element to them. He has advised on the obtaining, timing, deployment and reliance of surveillance and open source evidence.
In personal injury cases he has persuaded Courts to make findings of FD, order disapplication of QOCS protection and referral to the Attorney General for Contempt of Court proceedings. He has also successfully resisted such submissions when instructed on behalf of claimants.
His experience in such cases includes low velocity impacts (LVI), phantom passengers, mistaken identity and exaggeration of symptoms and/or damages.
In clinical negligence cases he has advised on and negotiated advantageous settlements in cases where the claimant appeared to have exaggerated their claim.
Tim accepts instructions under Licensed Access Terms of work in any of his areas of expertise and experience.
Tim accepts Public Access instructions and has undergone the additional training required to do so. If your problem falls within Tim's areas of expertise and experience, please contact his clerks in the first instance for further assistance.