Ryan retains a broad practice, with a particular focus on employment, regulatory, public and commercial/insurance-related areas of law.
He regularly appears in multi-day matters in the Employment Tribunal. Further, Ryan has experience in the First Tier Tribunal, Employment Appeal Tribunal, High Court and Court of Appeal. His recent cases include:
Ryan's clients include businesses, regulated professionals, insurance companies and government departments. He is qualified to accept instructions directly from members of the public via Direct Access.
He maintains a substantial pro bono practice, typically acting through Advocate (formerly the Bar Pro Bono Unit). Ryan's pro bono efforts have seen him referred to in The Times and The Financial Times. In 2022, he received a Special Mention in the 'Young Pro Bono Barrister of the Year' category at the Bar Pro Bono Awards.
Ryan comes to the Bar following an earlier career in academia where he researched and taught on the history of medicine. He was awarded his PhD in 2017 and was the recipient of various awards and scholarships as an undergraduate and postgraduate.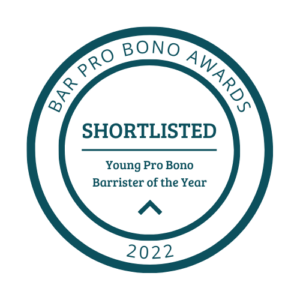 Ryan maintains a broad employment practice, acting for both Claimants and Respondents.
He has recent experience of claims for unfair and constructive dismissal; redundancy; discrimination, harassment and victimisation; unlawful deduction of wages and breach of contract; and detriments arising from health and safety breaches, particularly in the context of Covid-19.
Ryan is regularly instructed at the early stages of proceedings to assist with drafting and providing advice on merits. He has considerable appellant experience relative to his year of call, having appeared on four occasions in the Employment Appeal Tribunal.
Ryan increasingly acts for, or in cases involving, regulated professionals, particularly in the legal and banking sector. His recent/ongoing caseload includes:
acting for a solicitor in a two-day discrimination claim brought by a former secretary.
advising a lawyer on merits and quantum in a discrimination claim against her former employer.
advising a former employee in respect of her discrimination claim against a high-street bank.
drafting and advisory assistance to a HR professional claiming sex discrimination and whistleblowing detriment.
acting for an accountant in a claim for pregnancy discrimination and victimisation.
advising a former employee in his claim for redundancy against a high-street bank.
advising a care home on potential unfair dismissal/discrimination claims in respect of employees' vaccination status.
successfully representing Claimants in substantive PHs (including one multi-day hearing) on employee status.
advising a paramedic in a claim for disability discrimination against a professional regulator.
advising a school-worker on appealing a vague/defective tribunal order in respect of a finding of unfair and wrongful dismissal.
Ryan gained a broad exposure to employment law during his 12-month pupillage, which included a high-profile claim for philosophical belief discrimination; advice on the provision of PPE in care homes in the early months of the Covid-19 pandemic; and a claim for health and safety detriment brought against a foreign embassy.
Ryan has an interest in all aspects of regulatory and disciplinary law.
In 2022, he completed a secondment at the Nursing and Midwifery Council, acting for the regulator in numerous IOT and SOR hearings. He continues to be instructed by the NMC, including in multi-day substantive hearings.
Elsewhere, he has acted for clients in various regulatory and disciplinary proceedings. Recent instructions include acting for a family in an inquest and advising a paramedic in a discrimination claim against his regulator.
In 2022, Ryan was appointed as a Panel Clerk to the Bar Tribunal and Adjudication Services.
Ryan is a member of the Attorney General's Junior Junior Scheme and he is regularly instructed by GLD to provide drafting assistance, typically in the context of judicial review applications to the Upper Tribunal/High Court.
Recent instructions include:
drafting Summary Grounds in respect of a JR against the SSHD for refusing to provide the Appellant with a British passport. Permission to bring the JR was refused and the SSHD was awarded her costs.
drafting Summary Grounds in respect of a JR against the SSHD for failing to provide the Appellant (who was on immigration bail) with suitable accommodation.
drafting Summary Grounds in respect of an Article 6 JR against the SSHD for ordering the Appellant's removal from the UK.
Ryan maintains an interest in public law more broadly. He was the winner of the Lee Essay Prize in 2019 for an article on parliamentary sovereignty, and in July 2020 wrote for Counsel Magazine on the challenges facing any future inquiry into Covid-19 (see here).
In April 2022, Ryan joined the Post Office Horizon IT Inquiry as Junior Junior Counsel. He is separately instructed by HMRC on the UK Covid-19 Inquiry.
Ryan has a growing practice in commercial and related areas of law.
He has experience of representing clients in claims for breach of contract and debt recovery. Ryan has also acted for creditors in bankruptcy proceedings, and he is currently instructed for a lender in an ongoing dispute about the ownership of a property.
Ryan regularly undertakes disputes between or involving insurers, typically in relation to property damage. He has particular experience of damage to highways and damage to underground cables/pipes.