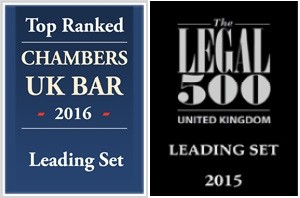 Farrar's Building is delighted to have been ranked in the latest Chambers & Partners and Legal 500 directories across five practice areas and with numerous individual mentions.
A detailed summary of the rankings can be found below.
Chambers & Partners
Crime
Farrar's Building enjoys a strong reputation for its serious criminal work. Its members are instructed in the most complex criminal cases, and act for both defence and prosecution in murder, firearms and sexual abuse trials.
Client service: Senior clerk Alan Kilbey MBE runs the clerking team at Farrar's Building.
Patrick Harrington QC – A vastly experienced advocate who has defended and prosecuted over 200 cases of homicide and fraud in his career. He receives high praise from peers for his expert knowledge in high-profile murder cases.
Strengths: "He is a robust cross-examiner."
Recent work: Prosecuted a case involving a contract killing, successfully securing the conviction of the two defendants.
Paul Lewis QC – Acts for the defence and the prosecution in homicide cases and complex fraud matters.
Strengths: "He is a very strong advocate, a very good cross-examiner and very thorough in his preparation."
Recent work: Prosecuted in the case of R v Paul Mapps, where the defendant fatally stabbed a friend.
Michael Mather-Lees QC – His caseload consists of complex fraud, clinical negligence, personal injury and medico-legal cases, and he acts for both the prosecution and defence.
Recent work: Instructed in the case of Michael Pearce, who was found guilty of beating his child and attempting to cover up the murder.
Personal Injury
Farrar's Building's members are instructed by both claimant and defendant solicitors to act on disputes including high-value and complex spinal and neurological injuries. The set manages to be both friendly yet unfalteringly professional, so much so that one instructing solicitor refers to it as "a home from home." The team receives instructions from a range of insurer clients, as well as undertaking a wealth of privately funded work.
Client service: "The clerking and administrative service is absolutely superb, they never let you down. All e-mails are responded to swiftly and calls are answered immediately." Alan Kilbey is the senior clerk.
Alan Jeffreys QC – A leading silk who is highly regarded for his expertise on catastrophic brain and spinal injuries. He acts predominantly for defendants in RTAs of the utmost severity. He is particularly noted for his expertise in cases requiring accident reconstruction.
Strengths: "He is unflappable, terrific with clients and is very good in JSMs." "He is a silk of choice for large-loss catastrophic motor claims. He is highly knowledgeable and has a great attention to detail."
Recent work: Acted in Rehill v Rider Holdings, a case where the claimant was run over by the defendant's bus.
John Leighton Williams QC – Covers the full range of personal injury work, with particular expertise in complex cases concerning brain damage and catastrophic injuries. He is also an expert in claims concerning injuries abroad.
Strengths: "He has an incredibly sharp mind and gets to grip with the salient issues very quickly. He also has a very approachable manner and gets on very well with clients."
Recent work: Acted in Ali v Caton & MIB, where £2.3 million was awarded to a client who suffered significant brain damage.
Rhiannon Jones QC – Has substantial experience across the full range of severe personal injury claims. She acts for both claimants and defendants and is acknowledged by her peers for her expertise in representing insurers.
Strengths: "She works enormously hard on her cases and gives her all to her clients." "She puts up a good fight and fully understands what the insurers are expecting and needing."
Lee Evans – Regularly instructed in High Court cases concerning claimants who have suffered severe orthopaedic and spinal injuries. He is also noted for his expertise in occupational disease claims. He is particularly well regarded by insurers.
Strengths: "He is very courteous and very charming in the way he gets his point across." "He is an excellent senior junior who is sharp, personable and well respected by claimants and defendants alike."
Recent work: Defended the interests of an insurer client in Symonds v Jones, a claim for £2.8 million following an accident which left a graduate with severe leg injuries.
Peter Freeman – A popular choice for both claimants and defendants, who routinely acts on serious injury cases. He has niche expertise in sports injury cases and also acts as a registrar under the railway industry's claims allocation and handling agreement.
Strengths: "His counter schedules are second to none. They tend to read like skeleton arguments and that puts us in a good position to start the trial." "He is an excellent junior with excellent advocacy skills and an impressive understanding of clients' interests."
Recent work: Advised the defendants in Gupta v Armstrong & Mainline Coaches, a case concerning a claimant who was hit by a coach.
Andrew Wille – Noted for his expert handling of catastrophic brain injury claims. He also has significant expertise on both Animals Act litigation and inquests after fatal accidents.
Strengths: "He is bright, thoughtful and a natural advocate." "He is personable and is quick to get to grips with a really complex case."
Recent work: Acted for the claimant in Davies v Wright, where an RTA left a man with significant neurotrauma and led to a claim for £2.4 million.
John Meredith-Hardy – Has a proven track record advising on CICA, fatal accident and catastrophic injury claims. He is highly regarded for expertise in handling asbestos exposure and other work-related claims.
Strengths: "He is very thorough, hard-working and possesses an incisive intellect."
Recent work: Acted for the claimant in Middlemiss v MOD, where a settlement of £225,000 was reached after a cadet suffered a serious eye injury.
Andrew Peebles – A favourite of defendant solicitors and insurers who brings a wealth of knowledge to a variety of personal injury claims. He is frequently instructed to deal with sports injuries, highways claims, and accidents where the client has been injured abroad or is a foreign national.
Strengths: "He does not hold back in putting his client's case forward."
Recent work: Instructed in Whitehead v Bruce & Others, where three drivers had a part to play in a serious RTA.
Professional Discipline
Geoffrey Williams QC – A highly seasoned practitioner, who is particularly adept at handling disciplinary proceedings affecting solicitors. He is well known for his skill in handling appearances both in the higher courts and before professional bodies, where his "very straightforward, measured and pragmatic" style proves highly effective.
Strengths: "He is very knowledgeable on SRA matters and combines a practical and thorough approach with considerable experience in this field." "He is very articulate and has a nice manner: a class act."
Financial Crime
Patrick Harrington QC – A formidable financial crime silk with significant defence and prosecution experience. He handles high-value criminal fraud matters including major commercial fraud, investment fraud and money laundering matters.
Recent work: Acted in Johnson & Johnson, a multimillion pound fraud involving the concealment of illegally obtained money.
The Legal 500
"Farrar's Building is 'an impressive and reliable set'. Although based in London, it has a national reputation and a strong following in Wales. It is best known for its 'strength in depth' in personal injury and criminal law, with 'standout' silks who are supported by 'a solid group of talented juniors'. Counsel are 'extremely helpful', and the clerking and administrative service is 'absolutely superb – it never lets you down'. 'The clerks are friendly and entirely professional, and they simply do not realise how good they are.' 'Exceptional' senior clerk Alan Kilbey is rated by some as 'the best clerk in the Temple'."
Personal Injury
Maintains 'an excellent reputation' in this area, and the clerks are 'always willing to help, accommodating solicitors' needs, even at the last minute'. Case highlights saw Alan Jeffreys QC and Peter Freeman succeed in the Court of Appeal in Rehill v Rider Holdings.
Alan Jeffreys QC – 'Intellectually supreme, and a great lawyer at trial.'
John Leighton Williams QC – 'Recommended for his keen eye for detail.'
Rhiannon Jones QC – She richly deserved her silk appointment.'
Helen Hobhouse – Her ability to analyse detailed evidence is excellent.'
John Meredith-Hardy – 'He shows meticulous attention to detail.'
Lee Evans – 'Sharp, personable and respected by claimants and defendants alike.'
Nigel Spencer Ley – 'Experienced in acting for claimants and defendants.'
Peter Freeman – 'He has the perfect blend of commerciality and fighting spirit.'
Professional Discipline & Regulatory Law
Geoffrey Williams QC – 'His relaxed style makes the tribunals trust him.'
Health & Safety
Patrick Harrington QC – 'Sought after for his experience on the defence side of multiple death cases.'
---
---