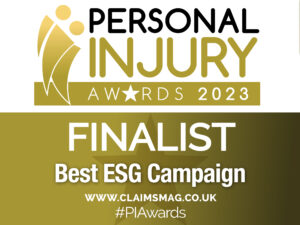 We are delighted to be shortlisted in the ESG category of the Personal Injury Awards 2023. This recognition highlights how Chambers are continuously seeking to improve its disability, social mobility and pro bono commitments. A little more on each of these important responsibilities below:
In the past 18 months, Farrar's Building has undertaken extensive efforts to attempt to reduce or remove barriers to wheelchair users at the Bar. This ambition has been two-fold. Firstly, we have converted our non-accessible building into one that is fully accessible for wheelchair users, and secondly, we have liaised with the Bar Council, PIBA, HMCTS and train operators to collate extensive, shared data surrounding court and transport accessibility.
Like most historic buildings in Temple, Farrar's Building was not accessible to wheelchair users. Extensive conversations took place with Inner Temple and whilst building works are ongoing, we are soon to be one of the first sets in the Temple with wheelchair access to all floors and facilities suitable for wheelchair users.  This will rightly allow wheelchair users and those with other mobility issues to access Chambers.
A further important consideration for Chambers was how we could support wheelchair users at the Bar to excel in their practice, which is often heavily court-based. We have taken a number of steps to mitigate as far as possible the societal barriers that could impact a wheelchair user's career at the bar.. These have included over a significant period of months:
1. Liaising with various train operators regarding their support network for wheelchair users, and dealing with a number of issues surrounding the use of their network. Those train operator discussions will hopefully help to improve service nationally for wheelchair users, and have a positive impact for the wider disabled community.
2. Extensive internal discussions and management of the clerking team,  to manage the practice of wheelchair users at the Bar, including briefing documents and training sessions regarding the management of a members' practice and court attendance.
3. Liaising with the Bar Council, PIBA, and HMCTS regarding general accessibility issues across the entire courts network in England and Wales. Chambers set out on an unprecedented task to contact every single court in England and Wales (c.450 in total) to ask them a series of questions regarding building and courtroom accessibility. This process took many months and many hundreds of hours of commitment from both members and staff at Farrar's Building. We were gratefully supported in our endeavours by 39 Essex Chambers.
Court accessibility data has significantly assisted the clerking team in understanding which courts wheelchair users at the Bar are able to accept work in, and which present obstacles due to transport or accessibility issues. This enables us to liaise with clients accordingly in the management of members' practices.
We hope that our efforts will eventually achieve a shared document between HMCTS and the Bar Council, available online and readily accessible to all users of the courts service. Inaccurate accessibility information is an unacceptable barrier to barristers who are wheelchair users.
Further to the above, Farrar's Building has significantly increased its commitment to social mobility, working alongside organisations supporting access to the Bar from underrepresented groups.
Starting with schools, we are committed to working with the Bar Council's Discovery for Schools programme, ensuring that the profession of barristers is open to candidates from any background. We have also joined with UpReach to help graduates from less-advantaged backgrounds access and sustain top graduate jobs. We are participating in a fantastic scheme, 'Bridging the Bar' which bridges the gap between candidates from non-traditional backgrounds and the skills, experience and networks required to develop a career at the Bar and we are welcoming interns from underrepresented backgrounds, via the 10,000 Interns Foundation, to promote equity of opportunity.
Whilst this is not an exhaustive list of our ESG goals or achievements, we are also particularly proud of the significant increase in our commitment to pro bono. We have 25 members or 43% of Chambers' membership signed up to the Advocate panel, representing hundreds of hours of free legal support. Indeed one of our members – Ryan Ross – was shortlisted for and received a Special Mention under the category of Young Pro Bono Barristers of the Year at the 2022 Bar Pro Bono Awards.
Our work includes collaboration with solicitors firms on pro bono work under the Pro Bono Connect initiative. In June this year, Chambers' CEO met with Advocate's CEO to discuss ways that Chambers can further advance its commitment to Pro Bono, including:
• Appointing Pro Bono Champions within Chambers;
• Applying to the Pro Bono Framework, to strengthen and highlight the pro bono ethos of Chambers;
• Increasing the number of our members committing to the Pro Bono Pledge, where a member commits to 25 hours of pro bono work per year. Another of our juniors, Richard Ive, has conducted 58 hours alone so far in 2023;
• Case reviewing;
• Mentoring roles.
We look forward to working more closely with Advocate in the coming months and years, and also with other organisations we also actively provide support to, include the Free Representation Unit and the Sport Resolution Pro Bono Legal Advice Panel.
---
---