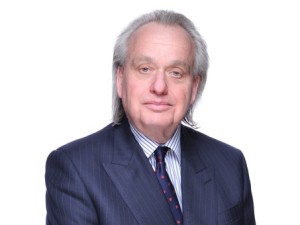 The end of an era…
On 31st of March 2014 Gerard Elias QC retired from practice at the Bar after a long and distinguished career.
Gerard was called to the Bar (I) in 1968. His pupillage at Farrar's was memorable, for his co-pupil was Elizabeth Kenyon: as Gerard puts it "But for a pupillage with Ronald Waterhouse approaching 50 years ago, Elisabeth and I would not have met and my life would doubtless have been very different, but it could not have been better". They married and have three accomplished sons.
Gerard then practised from 34 (later 9) Park Place, Cardiff but retained a strong connection with Farrar's. He developed a huge practice, taking silk in 1984 at the age of 39. He immediately joined Farrar's where his practice flourished.
He was, successively, Treasurer and then a distinguished Leader of the Wales and Chester Circuit. Amongst many professional achievements, from 1996 – 1998 he was Leading Counsel to the Waterhouse Enquiry into abuse at Childrens' Homes in North Wales. He was Lead Counsel to soldiers and civil servants in the Bloody Sunday Enquiry from 1999 – 2004 and was Leading Counsel to the Baha Mousa Enquiry from 2008-2010.
His last professional commitment was successfully to prosecute a historic case of two sets of double murders which had been committed in Pembrokeshire. He was particularly proud to lead his son, David, in the case.
He was, all too briefly, Head of Chambers at Farrar's until his commitment to the Bloody Sunday Enquiry made this logistically too challenging.
He sits as a Recorder, a Deputy High Court Judge and as a Boundary Commissioner.
He has been Chairman of the Disciplinary Council of the England Cricket Board and Chairman of Sports Resolutions and was Chairman of Glamorgan County Cricket.
We wish Gerard and Elizabeth well and know we will enjoy their company at many Farrar's events in the future.
The beginning of an era…
In January we were delighted to welcome Geoffrey Williams QC as a tenant at Farrar's.
Geoff was admitted a solicitor in 1978, practising in partnership in Cardiff from 1980 until 1998 when he established his own specialist practice. He was granted Higher Courts Advocacy Rights in 1997 being exempted from the normal test and training course on the grounds of his specialist experience.
He took silk in 2003 (one of the few solicitors so to do and following the path of Andrew Hopper QC an associate tenant at Farrar's).
Since 1988 he has been instructed by the various regulatory arms of the Law Society (now the SRA) and has specialised in Regulatory and Disciplinary law.
He is regularly instructed by the Royal Institute of Chartered Surveyors and by the Solicitors Disciplinary Tribunal.
During his years in practice he often instructed counsel from Farrar's: a high point being R v Shankland and others (HL) in which Lord Williams of Mostyn QC led Christopher Pitchford (as he then was) at first instance at Cardiff Crown Court and to the successful appeal in the House of Lords.
Last year Geoff fulfilled a long nurtured ambition and was called to the Bar (G) in Michaelmas Term. He joined Farrar's as soon as was practically possible.
His practice is flourishing.
He is a keen follower of the turf, a loyal supporter of Pontypool RFC and a committed fan of Glamorgan Cricket.
He is very welcome at Farrar's.
---
Author: Geoffrey Williams 2003 Farrars (gwilliams@farrarsbuilding.co.uk)
---
---