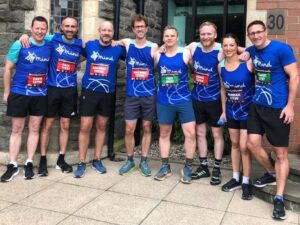 Yesterday saw months of training and hard graft come to fruition as a mixture of members, staff and clients from the Farrar's and Friends Running Club tackled the 21.1KM Cardiff Half Marathon course.
Our members David Roderick, Andrew Morse, Andrew Wille, Hannah Saxena, Frederick Lyon and Aidan O'Brien, our CEO, Paul Cray, and Partner at DWF, Stuart Giddings all pounded the scenic streets of Cardiff to raise money for Mind Cymru and in particular the work that they do supporting young people with mental health issues, with support from sponsors totalling an incredible £3,341 (and rising) in the process! Thank you to everyone who gave up their spare time this weekend and in training. We know that Mind Cymru are extremely appreciative.
A special shout out to 30 Park Place in Cardiff for allowing us to use their facilities before and after the race, and also to Hannah Saxena, who impressively cracked the 2 hour barrier in her first half-marathon, having only started running in March this year.
There is still plenty of time to sponsor and to help us reach our £5,000 target! We'd be hugely grateful for any additional sponsorship via this link.
If you'd like to join the Farrar's and Friends Running Club to train for and participate in our next charity fundraiser, please contact our Marketing Manager, Kelly Penstone-Smith.
---
---